A Tourism Guide to Boston USA
Home Page - Why Visit Boston?
Boston is a liberal and highly spirited American City. Situated along the North East coast, 4 hours from New York, this city has a distinctly European feel. The windy streets, brownstone architecture and abundance of historical monuments set it apart from other modern American metropolises. Yet as the home to two world renowned colleges, prolific American sporting teams and unique culinary specialities, Boston is a thriving city that demands visiting.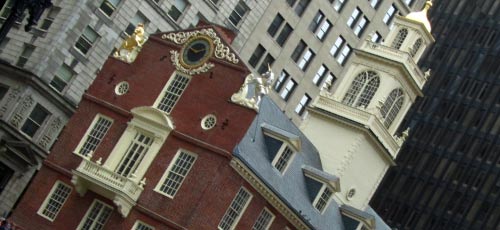 The historic side of Boston
Boston Highlights:
• Harvard Student tour in the Cambridge district: An informative and at times humorous way to see the history of American's top College through the eyes of a current student.
• Eat an Italian feast in the North End: Explore the Italian district and then settle down to a mountain of food in one of the many family run restaurants.
• Walk to Independence: Take the three mile Freedom trail from Boston Common to Charleston and discover more about Boston's heritage.
• Watch a Home run at Fenway Park: Watch a Red Sox game, drink a local beer and eat a Fenway Frank in American's oldest baseball stadium.
Fenway Park the home of Baseball
• Go Design crazy at MIT: Feast your eyes on the iconic McLaurin Building's 150-foot-high 'Great Dome' and other architectural wonders as you rub shoulder with technology's elite.
• Go from Boulevard to Market: Walk through the boutique, brownstone shops of Newbury street through Boston common and on to the quirky Quincy market
• See how the local beer is brewed: Head off to either the Samuel Adams or Harpoon Breweries to see how local hops are turned into these unique blends. Special tours also include both if you are up for the challenge.
Boston is suitable for...
Tourists who are interested in both historical and modern American culture all rolled up into a pint sized, welcoming city.
Tourists who prefer the hustle and bustle of a 24 hour city or those who want a beach resort.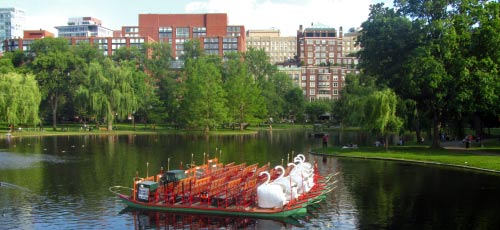 The pretty parks of Boston
Consider including Boston in a longer American trip...
Boston is ideally located as a 'breather' for tourists exploring the hustle and bustle of New York. It can be combined as a summer break with day trips to surrounding coastal areas of Martha's Vineyard or Marblehead. In the fall it can be combined with road trips to other picturesque areas in New England.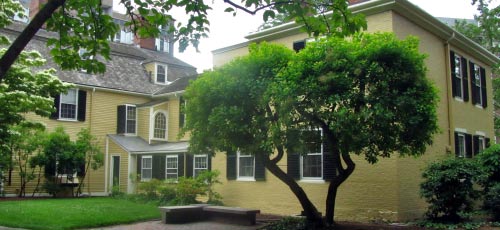 Historic Harvad unviversity
When to go to Boston?
Boston's climate can dramatically differ through the seasons. Peak tourism season runs from May to September when the weather is most hospitable. Whilst summer temperatures can soar into the late 30s, all buildings are equipped with air conditioning units. Late autumn months of October and November are considerably quieter but temperatures can dip below freezing.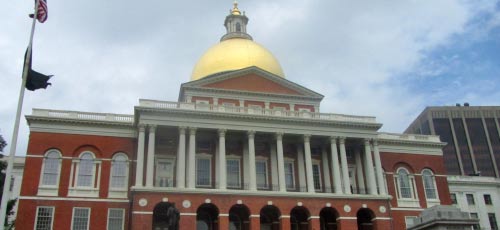 Boston City hall
Where to stay in Boston?
Like most American cities there are wide ranging accommodation options...
For those on a short stay it is advisable to stay in the downtown area as all transport runs from here and make sure that you are in close proximity to a T station to make your stay stress free.
For those on a longer trip it is worth looking at holiday rentals to get the real feel of living in downtown Boston and for those on a luxury budget try the brownstone streets to wake up every-day feeling like you are in a movie set.
Boston by Day...
Boston is a laidback city with a relaxed feel. Transport runs to time and people are friendly so don't be shy and do expect that people will want to know where you are from and why you've come to Boston. Be patient and friendly and you will feel right at home. There is a short rush hour in the morning and it is best to have a morning coffee and start exploring after 10am.
Boston by Night...
Boston's laidback and casual feel continues into the evening. Many parts of the city become relatively quiet although good restaurants are in abundance in any district. Try the North end for tasty Italians or down near the dock for Seafood specialities.
For tourist looking for a night life it is advised to head to the Theatre District and as a friendly local for some good tips as the night scene is constantly changing. Dress codes are relaxed and Week day nights are often dominated by the spirited sports scene and it is advisable to go take a trip to see one of the local sporting teams play.
Tourists should do a little homework on the team's name and colours to avoid unfriendly banter from locals. See sport section for more details