Cambridge, Boston - the University and College District
Over the Charles River from downtown Boston is Cambridge, famed as the home to Harvard University and Massachusetts Institute of Technology. Beyond its colleges Cambridge has a number of trendy and bohemian areas such as Harvard Square and Central Square that are worth exploring.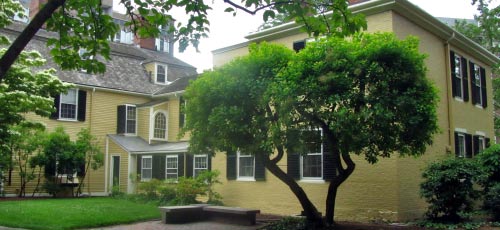 Historic Harvad unviversity
How to get to Cambridge...
Cambridge can be easily reached on the underground T metro in a matter of minutes by taking the Red line north and getting off at either the Central or Harvard stops. Buses also run a frequent service along Massachusetts Avenue.
On a sunny day Cambridge came be reached on foot by taking a nice trail across the Harvard Bridge and watching the sail boats on the Charles river. Look out for the measurements along the bridge that depict a MIT joke project to determine how many students, lying end to end would take to cross the river.
Cambridge highlights
• Harvard Student tour: An informative and at times humorous way to see the history of American's top University through the eyes of a current student.
• Visit the Unique Glass flower collection at Harvard Natural History Museum.
• Go Design crazy at MIT: Feast your eyes on the iconic McLaurin Building's 150-foot-high 'Great Dome' and other architectural wonders as you rub shoulder with technology's elite.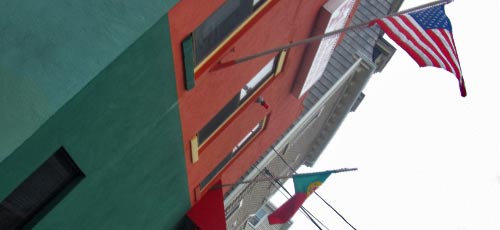 Cambridge has a large Portuguese community
Massachusetts Institute of Technology (M.I.T)
World renowned for being one of the leading institutes for research and technology in the world, Massachusetts Institute of Technology is worth a visit even if only to take in the architecture and snoop around a few of the buildings.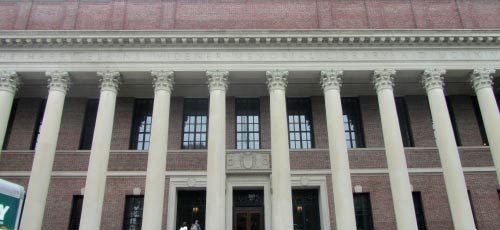 Historic Harvad unviversity
M.I.T highlights include... The iconic McLaurin Building's 150-foot-high 'Great Dome', perspective alterning Sidney & Pacific Street Dormitory designed by Frank Gehry and modern Kresge Chapel.
Guided M.I.T Walks - Tourists should head to the Visitor centre on Massachusetts Avenue (number 77) to get information on daily events and guided tours. MIT also provide an informative self guided tour map and fact sheet for tourists who are short on time.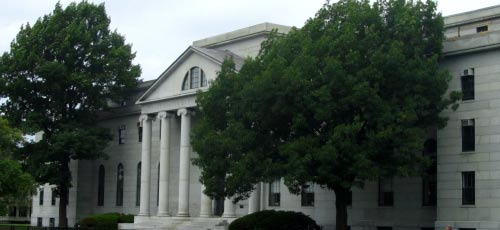 Historic Harvad unviversity
Harvard Square
Harvard Square represents the central area for Arts, shopping and eateries in Cambridge. It is a focal point for students, street performers and is a perfect stopping point for a spot of people watching. It is best explored by winding up and down the streets that run off Massachusetts Avenue. This is also a good spot to pick up souvenirs and 'Harvard' T-shirts. The official Harvard bookstore is also located in the square.
Harvard Square can easily be reached by bus (by picking up a stop along Mass Avenue) or Metro (Red line stop 'Harvard square).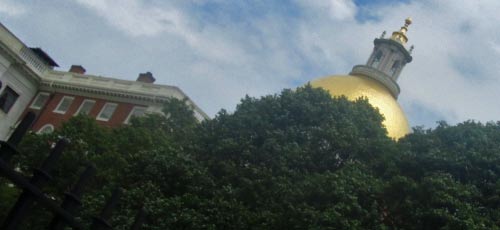 The golden dome of the university
Harvard College
Founded in 1636 Harvard is the Oldest College in American and with alumni including the likes of Barack Obama, Natalie Portman and Mark Zuckerberg, it is clear to see why this college attracts students from around the globe.
Highlights include... Walking through Harvard Yard, Widener Library, Memorial Hall and, for tourists with time, watching student life outside the Science centre.
Guided Harvard Walks - For Tourists short on time it is worth while taking a short walk across the campus taking in the colonial architecture, which is unique to Harvard. There is also a self guide walking map, which gives a little more information on the main buildings.
It's Batman at Harvard University!
For Tourists with more time it is recommended to take a college tour. These are either run by Students or form faculty, depending on taste.
Harvard Museum of Natural History
The Harvard Museum of Natural History is a worthy stop of for Tourists interested in the Natural world. A trip around the full museum will take around 2-3 hours. The museum is just a 10 minute walk from Harvard Square. Simply walk through Harvard Yard and north on Oxford Street. The Museum is clearly signed on the right hand side.
The museum is divided into Halls with differing collections with clear signage so it is easy to find a particular area of interest. Highlights include the Glass Flower exhibition, minerals section and Dinosaur exhibition.